Heat Treated Pallets for International Shipping (ISPM-15 Certified)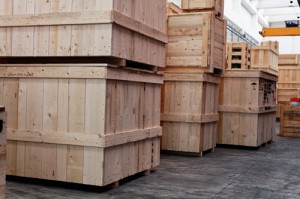 With the goal of preventing the spread of disease and insects from one country to another, the International Plant Protection Convention (IPPC) has developed the International Standards for Phytosanitary Measures No. 15 (ISPM-15). According to ISPM-15, wood packing materials used for international shipping must be treated according to stringent regulations prior to use. At
Certified Packing & Crating, Inc.
, we strictly adhere to these regulations when meeting the international shipping needs of our clients to ensure safe and timely arrival for every parcel.
IPPC Regulations on Wood Crates and Packing Material
The IPPC regulations on all wood crates (coniferous and non-coniferous) and packing materials are used to determine international shipping eligibility. In compliance with the IPPC and ISPM-15,
Certified Packing & Crating, Inc.
has:
Heat treated all wood crating and packing materials that are being used to ship internationally
Had the heat treated materials stamped with an official IPPC mark to show that they have met regulations
Making sure that your shipment get where it needs to go within your designated time frame is extremely important to us. Keeping up to date with international shipping regulations is an important part of our job as your trusted packing company in New Mexico.
Contact Certified Packing & Crating, Inc. for your International Shipping Needs
From freight forwarding services to art and antique shipping, the professionals at
Certified Packing & Crating, Inc.
have your international shipping solutions. We will work with you to understand your needs and will do our very best to accommodate them. Contact us today to ship your packages internationally.
Call us today to place your international shipping order.
Call (505) 998-3810. Engineering Creative Packaging Solutions for a Dynamic World